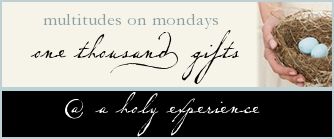 1000.

The number seems taunting at first.

Could I really find 1000 things in my life to be thankful? Some days the thankfulness comes so easy.

Everything is sunshine and daisies.
·
Watching my five year old play with Barbies
·
Listening to Pandora worship station at work
·
Watching the Passion Conference online
Other days the thanks has to be dug for like a buried treasure.

I know it is there, but I cannot see it at first glance.

It is taking time to be quiet (my word for the year)

and to think of the things that are blessing my heart.
·
New starts at a fresh week
·
Letting go of resentment
·
Feeling better after being ill
This counting has been a healing balm to my spirit.

A healing that I did not realize that I needed.
I recently finished reading Kisses from Katie and as I read of her life in Uganda, and the lives of those where she lives I realize that I have so much.

So stinking much to be thankful for yet sometimes I choose ingratitude.

Counting continually reminds me of the Giver of all good gifts.

The little journal that sits on the end table waiting for me to add gifts to it beckons me to add to the list.

Once I start the list grows and grows.

But I have to choose to start. Consider joining Ann with her January list to get you started.